2009 Lifetime Achievement Award Honoree - Jim Hovis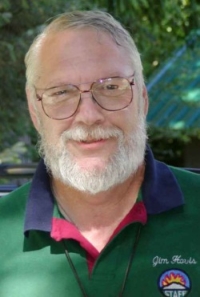 Jim Hovis was the Council Camping Director and is the longest serving Camp Director in the history of Fire Mountain, serving from 1997 - 2010. He is best known for the impact he had on developing camp programs, recruiting, nuturing, training, and encouraging the summer camp staff.
Prior to serving as Camp Director Jim ran the Pathfinders program and then served as the Program Director in 1995 and 1996.
In his over 16-years serving Scouts and Scouters at Fire Mountain Scout Camp Jim served as a mentor and role model to countless staff and campers and for that he is awarded the FMSAA Lifetime Achievement Award.
Jim passed away January 4th, 2022, you can read his memorial and staff alumni memories - here