History of the Bruce Christian Chapel
Bruce Christian - Pro Deo Et Patria Award, Eagle Scout Award with Bronze Palm, Junior Leader in Scout Troop 50, and Explorer Post 50, and in 1964 National Jamboree Troop 42.
From childhood and Cub Scouts to adulthood and U.S. Army Engineer service in Vietnam, Bruce grew in service to God, service to his country and others, and service to self as he lived the Scout Oath and Law. In September 1968, a few days before he was to return to the United States from Vietnam, he was killed by an enemy rocket. "Greater love has no one than this, that one lay down his life for his friends." John 15:16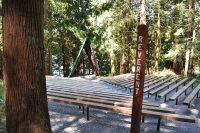 Our translation of his death into living came with the construction of the Memorial Chapel bearing his name. As a place for worship, our troop, post and sponsoring Snohomish First Presbyterian Church dedicated the Bruce Christian Memorial Chapel in 1971 to serve all young men in bringing them closer to God through the Scouting program. "God above others, others above me, I must remember, Lord to love all three."