2022 Lifetime Achievement Award Honoree - Dave Henrichsen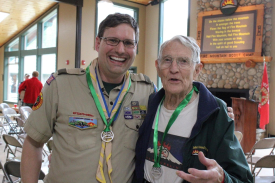 Dave is so often seen around camp and out with various units. He has been coming up to Fire Mountain for over 30 years, first as a Scout and now as a Scouter. His drive, energy and enthusiasm make him the heart and soul of our camp.
He has served on camp staff over several decades as a staff member, program director, and business manager. He has logged thousands of service hours with Fire Mountain at work parties, Order of the Arrow events, as a staff member, and with his unit. Including his current project restoring and expanding the Fire Mountain Historical Trail which will encircle the camp.
In 2001 he was a founding member, and a co-creator of the Fire Mountain Staff Alumni Association, which has provided Fire Mountain with materials, funding, support, scholarships, training, program assistance and many other areas of help for over 20-years. He continues to be the heart and soul of the association today.
He continues his Fire Mountain legacy bringing his family to camp here with their units. He is the epitome of a Fire Mountain Staffer who deserves to be awarded the Fire Mountain Lifetime Achievement Award, Dave Henrichsen.