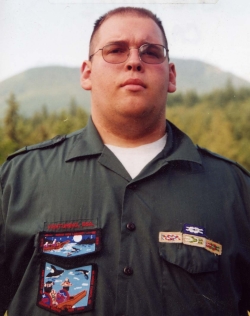 Joe Miller passed away early Saturday morning on July 1st, 2006 as the result of a tragic auto accident near his home in Granite Falls. Joe was a great friend to Fire Mountain and Boy Scouting, having served on the founding Board of the Fire Mountain Staff Alumni Association. Joe was an Eagle Scout, Vigil Honor OA member, recipient of the Founders Award, and was a Keeper of the Totem.
If you wish to honor the loving and giving memory of Joe by contributing to the Alumni Association Scholarship Fund, you may mail contributions to:
Joe Miller Memorial Scholarship Fund
22922 13th Pl W
Bothell, WA 98021
Make checks payable to FMSAA. You are welcome to include your memories of Joe that will be forwarded onto the Miller Family.
Contributions to both the Boy Scouts of American and the Fire Mountain Staff Alumni Association may be tax deductible as both organizations are 501(c)(3) non-profits. Consult with your tax advisor on your specific situation.