Camp Sevenich 1948 - 1971
By Larry O'Donnell
Camp Sevenich was located at Lake Conner a few miles east of Lake Stevens. Originally designed as a lowland camp for younger Scouts, Camp Sevenich slowly became the main council camp as increased vandalism eventually closed Camp Mathews.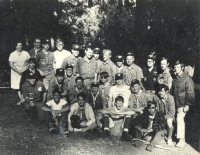 As a member of Troop 6, sponsored by the 1st Congregational Church, I went for the first time in 1949. The troop had a monthly campout and more often than not, it was held at Camp Sevenich. I went to summer camp in 1950, 1951 and 1952. I remember those as really good times. At summer camp in 1950, we had an outbreak of flu. At least half of the kids got sick. Carl Gipson, a former member of the City Council was the cook. Poor Carl was trying to figure out if something had gone wrong with the food preparation. Carl was real popular with the kids and he felt badly about it, even though it was not his fault. All in all, that was a great summer.
By Barry Hollander
The situation at Camp Sevenich had grown to the point where we were getting a lot of vandalism and the neighborhood was closing in around the camp.
It got to the point where we almost hat to keep a guard on the place by 24 hours and 12 months a year. We had motorcycles running through and hot rods racing around creating a lot of problems. It became quite obvious that Sevenich was too close to town. We would have to move farther out and isolated so we could maintain a camp. The council started negotiations for a new location. The first location was one up by Sultan. It did not work out. Then the chance to make a trade for the property at Mt. Cultus presented itself.