Fire Mountain Scout Camp 1972 - Today
The area now known as Fire Mountain Scout Camp was settled and farmed by William Gaches from La Connor in the early 1900's. He built the farmhouse and farmed 300 acres, planting the orchard as well as hay in the field which is now Lake Challenge.
In the early 1950's the land was sold to Lloyd Nelson who raised beef cattle on the property. In 1971, the 300 acres owned by the Nelson's, as well as an additional 140 acres of the neighboring Walking M Ranch, were acquired by the Evergreen Area Council. The 440 acres were named Fire Mountain Scout Reservation by Council Scouter Bob Overstreet who, as a young man, had fought one of several fires on Cultus Mountain.
Hundreds of volunteers as well as the Army Reserve, Navy Seabees, and Marine Reserves worked frantically to turn the hay fields into the beautiful 37 acre Lake Challenge, build the Dining hall, Campfire Bowl and campsites so Fire Mountain would become a reality for hundreds of Snohomish County Scouts.
Over the years generous donors have financed 3 additions to the Dining Hall, the building of Salishan Lodge, and many other projects. In 1988 the Council Executive Board made a commitment to undertake a capital campaign to make Fire Mountain into a premier camping and training facility.
1988 saw the completion of a new commissary and separate meeting room addition to the Dining Hall, construction of a new bunkhouse with a lounge for the summer camp staff, the completion of two new troop campsites and, finally, the acquisition of 225 additional acres, bringing the total reservation to 665 acres.
Starting in 1990 the expansion continued with new plumbing and toilet facilities in each campsite and the opening of Cub Adventure Land to host resident camping programs for Cubs and Webelos Scouts. It featured a teepee campsite, a complete BB gun/Archery range complex, aquatics area and, its focal point, the Wild West style Fort Boeing.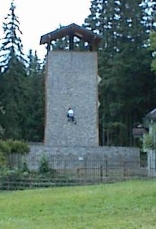 In the early 2000's there was an additional push to improve the facilities and to enhance the program offerings available at the camp. This included the building of the 40-foot climbing wall in 2001 and the conversion of the campsites from canvas tents to stents and adirondacks from 2002 - 2009.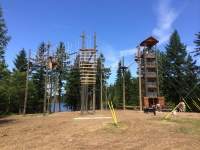 Starting in 2011 there was the 'Great Campsite Facelift' which included relocating campsites closer to the lake, building better campfire pits and patrol areas. 2014 had the completion of the 1080-foot zipline over Lake Challenge to Bjorn's Island and the new high and low COPE courses. And 2015 brought completion of the new boat beach marina on the south end of the lake.
Fire Mountain has continued to grow over the years in to a premier Scout camping facility supporting Scouts BSA, Cub Scouts, and many youth and adult leader development programs throughout the year.